A well-constructed drift deck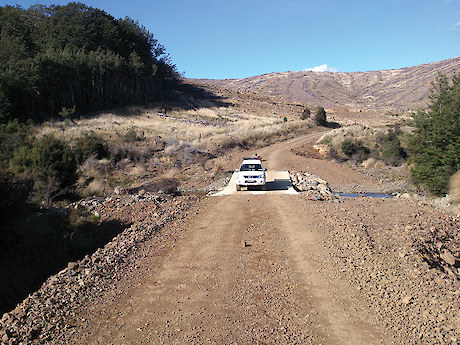 A drift deck crossing, with a secondary crossing for tracked logging machines that would damage the concrete padDrift decks, like battery culvert river crossings, are structures that are designed for flood water to overtop the carriageway. The main difference is that a battery culvert consists of a series of pipes embedded in concrete, whereas a drift deck is constructed with a series of open-bottomed, inverted 'U' precast concrete components, or a series of rectangular concrete box segments. Each box segment is secured to the adjacent box segment for the length of the structure. Those with an open bottom typically need a concrete base or piers for support, and as an anchor. Alternatively, cast in-situ piers with precast concrete bridging slabs may be employed. Some New Zealand manufacturers make proprietary interlocking components. For example, Hynds Pipes Systems Ltd.
Drift decks have similar advantages and disadvantages to battery culvert crossings; see previous section. However, they have additional benefits, and potentially some weaknesses. They are typically less expensive, and the structure is not as susceptible to debris blockage because water can pass through a larger cross-sectional profile. Their prefabricated construction eliminates the need for concrete formwork and pouring, and makes them quicker to construct, often with less in-river construction disturbance.
Open-bottomed drift decks also have improved fish passage. A significant advantage is that, in some situations, the design may allow for removal after harvest for use at a different site. When the crossing is no longer required, the open bottom and concrete bridging slabs can be lifted from the river bed and re-used elsewhere, leaving the piers in place for the next harvest rotation. A potential disadvantage over a battery culvert, is that they may not be as 'bomb proof' in storm floods, depending on their location and design. For example, inlets are more challenging to protect from large woody debris than a battery culvert, as they cannot be deflected as easily.
As with all river crossings, understand the NES-PF specific rules for drift decks. Resource consents will be required where the drift deck does not meet the permitted conditions. For example, as for battery culverts, if the contributing catchment is greater than 500 ha.
8.7.1 Drift deck design
Drift deck outflanked by the river. (Credit: D. Nielson)The design requirements for drift decks concerning location, approach layout, grades and transitions, carriageway height and culvert size calculations are similar to battery culvert river crossings. These were discussed in section 8.6. It is important to determine the correct type and size of the drift deck sections for the site. For drift decks sited on steeper gradient and larger rivers, be aware that the NES-PF's permitted activity rule requires the use of two discrete footings to create an open bottom crossing with undisturbed fish passage if the bankfill channel width is greater than 3 m, and the bed invert gradient is greater than 6%, as measured 50 m up and downstream of the crossing site. Also, note that a building consent will be required if the height of the structure is greater than 1.5 m above the river bed.
As with other crossings, it may be a good option to consult with a forest engineer, hydrologist or other specialist to help with both design and construction of the structure. It is always a good idea that the design plans and calculations are peer reviewed. Additional information on how to calculate culvert size refer to 8.9 Prediction of flood flows and sizing culverts, and Schedule 2 of the NES-PF for flood design flow calculators and/or this page.
8.7.2 Drift deck installation
Drift deck components ready for installationThe general construction requirements of the drift deck are the same as a battery culvert (see 8.6.2 Battery culvert construction). Some additional specific construction practices follow:
Divert water flow around where the piers are to be constructed, if these are to be used
Join the sections. Drill holes at each joint location, align drift deck units at the correct centres, insert dowels, then grout
Complete the deck by fixing timber kerbing, where required.
Open-bottomed structures need the following preparatory steps:
Construct on a suitable foundation slab or piers
Construct level bearing pads at locations to match the drift deck unit's size.
Check regularly during and on completion of construction. If the work does not meet the design plan and standards, then initiate corrective actions.