Culverts are essential for draining water across a road. They only work if the culvert size matches its intended use.
Recommended maximum culvert spacing (metres) for non-ridge top roading
Grade
Soil or rock erodibility
High
Moderate
Low
Non-erosive rock
18% (1 in 6)
40
80
120
200
14% (1 in 7)
50
90
140
220
12% (1 in 8)
55
100
160
240
11% (1 in 9)
60
115
180
260
10% (1 in 10)
65
130
210
300
8% (1 in 12)
80
165
250
350
The culvert is located on hard ground.
The solid bund at the culvert entrance helps to ensure water does not by-pass the culvert.
The culvert mouth is easy to clean with an excavator.
The culvert has a marker peg and is GPS located.
The culvert inlet is easily blocked.
The culvert is hard to keep clean.
The culvert will be by-passed in heavy rain. This will damage the road and cause erosion.
The culvert outlet is armoured by rock to reduce sedimentation.
Installed during road construction, not after metalling.
Set at a minimum of 20 degrees across the road and down slope to reduce blockage.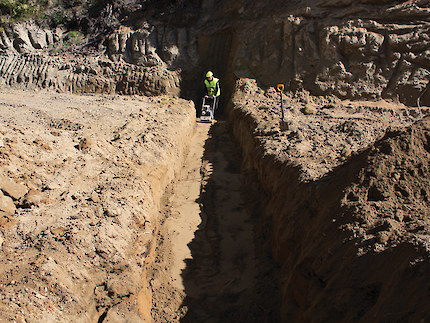 The ground around the pipe has been compacted.
The pipe has the correct amount of soil and metal above it to stop it being damaged by traffic.
The culvert has sufficient fall so water drains from the pipe and doesn't block easily.
The trench is flat and to a depth recommended by the manufacturer.
The culvert bed has been compacted.
Pipe sections are joined in the trench.
No sharp rocks or objects are in the backfill.
Care is taken to compact soil around the pipe.
Two non-marked culverts in a row have been wrecked.
The culverts were not marked so grader damage was more likely.
Water has by passed the culverts and is heavily scouring the road.
The culvert inlet is protected from being blocked by slash.
The culvert should not drain straight into the stream if there is no sediment control above the inlet.
The road should not be built as close to the stream as this, unless there are no other feasible alternatives.