Good drainage is essential to maintain the road and minimise sediment entering waterways and estuaries. Council and company earthworks' guidelines are aimed at reducing the amount of sediment that gets into waterways. On-going sediment harms stream life.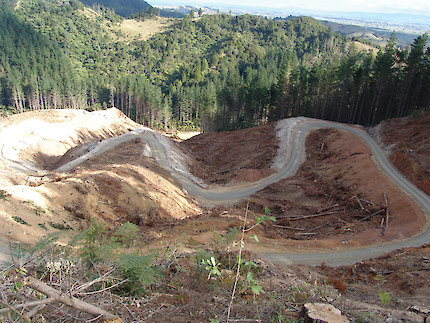 Drainage is onto stable ground.
Water is cut off as often as possible, to avoid directing lots of water into one place – where it would scour.
Culverts on the top and lower sections of the road are lined up to minimise the amount of water forced into the lower road's water table.

Poor water control can quickly cause a lot of damage and erosion.
This leads to expensive road maintenance.
It also generates fine sediment which is bad for the environment.
Drainage is directed away from the fill.
The fill is contained by slash and stabilised by grass seeding.
Water and sediment control were installed as soon as was possible.
Water volume and speed has been reduced to help prevent erosion and sediment loss.
The amount of sediment going into waterways has been minimised.
Large amounts of fine sediment can severely damage stream life.
If this was the result of poor practice it could lead to prosecution.