Silt traps help to reduce sediment entering waterways, but care must be taken to ensure they are not a vehicle hazard. Do not locate near corners on the road.
Constructed large enough to slow the water so that the sediment can settle on the bottom.
Made deep as they can fill in rapidly.
Located close to the source of the sediment.
Built on solid ground – otherwise water may drain into the fill and increase the risk of a fill failure.
The outlet is level to reduce scouring.
A large silt trap built too close to the road. It could have been easily constructed further away.
This is a major safety hazard. Safety cones should not be needed.
A small silt trap built well.
A small excavator bucket can easily clean it out.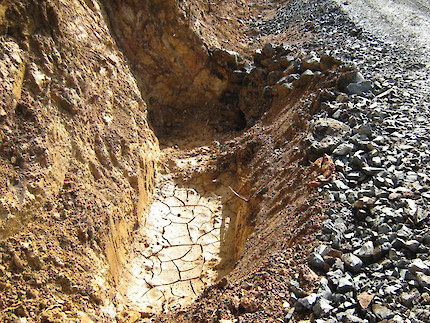 The silt trap is too small and the culvert mouth is too close to the road edge.
The silt trap has stopped working.
A silt trap and fence have been used to reduce sediment entering a stream.
Silt traps and sediment fences are effective when used together.
Fine slash like branches and needles can effectively trap sediment.
These can be used in many situations like at culvert outlets.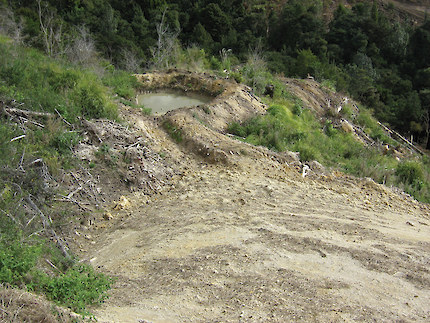 The silt trap has been built in a safe location.
It is located where an excavator can easily clean it out.
It has been built away from a water course or stream.
This silt trap failed when the water drained through the fill rather than using the outlet.
The trap needs maintenance to remove sediment.