Unstable cut and fill leads to high maintenance costs, environmental incidents and road closures.
Build it right first time
Construct cut and fill angles correctly

Bench and compact fills

Construct good water control

Use slash, mulch and grass to protect soil from rain erosion
A slash bund at bottom of the fill helps reduce sediment movement

The fill is contained and stable

The fill has been compacted to reduce the risk of failure on steep, unstable slopes

The grass will help protect the fill and reduce erosion
Poor water control and no fill compaction at the top of the fill has led to rill erosion

The fill is not protected and erosion will likely get worse

Water control and hydroseeding or grassing would help
What is a good fill slope angle?
Use the table below as a guide. Also drive around existing roads with similar material and see what angle provides the most stability.
Table 8: Fill batter slopes
What is a good cut slope angle?
Table 9: Cut batter slopes
For example, an average rock cut slope is steep. A 4 metre high cut bank only needs to be offset 1 metre horizontally
Steep cut angles of about 2 metres vertical to 1 metre horizontal were appropriately used for papa, so the batters are more likely to be stable
Pumice batters can be near vertical to reduce rill erosion
Slash spread on the logging track has reduced surface erosion and sediment

The fill is protected from rain directly hitting and eroding it

The slash filters sediment and slows the speed of the runoff

Slash helps grass and vegetation grow by providing cover
Radiata logs should not be used as a permanent retaining structure as they will rapidly rot and leave the road section unstable

Some water is still running onto the fill

The fill is too steep to be stable and will continue to cause issues

It is difficult to fix something after a failure

A temporary structure, like radiata logs, should be removed after use
Cuts and fill require regular maintenance until fully stabilised
The slope is too steep to hold the fill and it has spilt 60 m down the hill

The fill is eroding, and sediment is in the gully

Water will flow in the gully in heavy rainfall. This will affect water quality and stream life
Establishing vegetation is an excellent way to help prevent erosion and to reduce sedimentation.
Table 10: Types of vegetation stabilisation available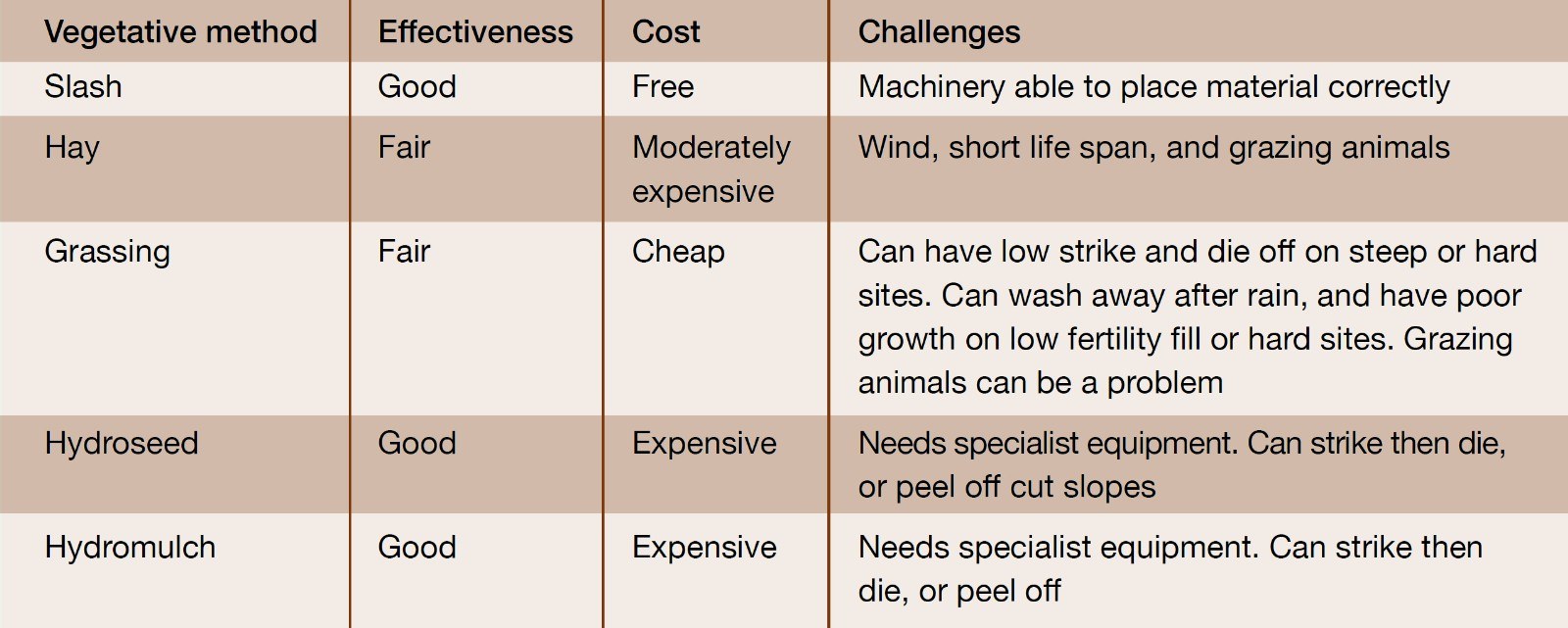 Grassing
Is easy to do by hand or with a handheld seed spreader

Autumn and spring are the best times for sowing grass

Grass prefers warm and moist conditions; summer drought or winter frost kills germinating seed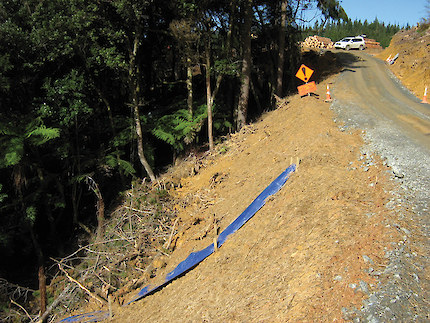 The fill slope has been protected from erosion

Water is directed off the fill by a sock

Hay is being used to assist revegetation
Grassing the berm and the fill slope has been effective

The cut bank is impracticable to grass due to the soil material