Cut and bench fill construction is a standard method of constructing roads in moderate to steep hill country.
Diagram 2: Bench cut to contain downslope fill material
A bench or benches can help stabilise the road or landing fill slopes because they provide a more stable base for fill

Soil from the initial bench is side cast

Locate the bench(es) so that the earthworks cut and fill volumes are balanced
The bench is located near the toe of the fill for the section needing benching

The bench is level

The bench is wide enough for safe and efficient construction

The dozer (arrow) is stumping
The fill is contained on the bench

Stumps are keyed into the slope at the toe of the bench

Slash has been used to reduce erosion
When should cut and bench be used?
There is no rule as it depends on the site, however use benches on slopes:
That are too steep for side cast construction

That are between about 40 to 70% but less depending on soil type. The recommended fill slope for most soils is 65%

Where there are known stability issues.
A bench was built because the slope was too steep for side cast construction

The fill was compacted in layers to increase fill strength

The bench contains all the earthwork fill

The edge of the bench is visible, which shows it was not over filled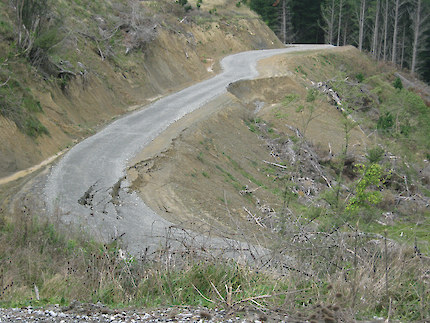 A lack of benching and poor fill compaction led to these significant failures